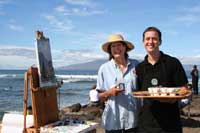 Above: Betty Hay at the Starbuck's Quick Draw paint out during the first Maui Plein Air Painters Invitational.
Congratulations!! Betty Hay Freeland's painting "Moods of Ukumehame" received the Hawaiian Cultural Award " Honor Hawaii - Honor Maui" at the 2011 Maui Plein Air Painters Invitational.
Below: Moods of Ukumehame,Oil, 14x20, sold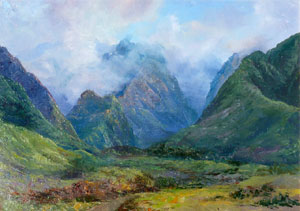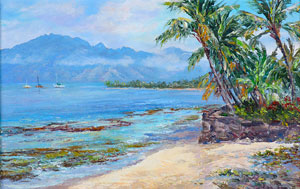 "Mala" Plein Air 2011, Oil, 13" x 20,
Betty Hay Freeland is one of Hawaii's most highly regarded artists, her compelling impressionist landscapes are widely collected. She portrays the staggering beauty of Hawaii with a tender touch.

Her perception of Hawaii is unlike that of any other artist. She began her painting career on location and continues to paint en plein aire. Betty Hay spends considerable time exploring all of the Hawaiian islands. She is Hawaiian/Caucasian with a notable Hawaiian ancestry. Many collectors feel that special insights and emotions experienced in viewing her art are due to this Hawaiian heritage and her passion for Hawaii. It is said that her value as a chronicler of passing eras will be inestimable.

Born Betty Hay Wodehouse, in Kohala, on the Big Island of Hawaii, she graduated from Punahou School, attended the University of Colorado, and continued studies in New York City. She returned to the islands in 1963, married George (Keoki) Freeland of Lahaina, Maui. Betty Hay, Keoki,their three grown children and grandchildren all reside on Maui.