October 11-31, 2013
Exhibition of California Plein Air paintings
Reception Friday,October 11, 6 -9 p.m.
Village Gallery • 120 Dickenson Street • Lahaina
PASCUAL WINS BEST IN SHOW
Maui artist, Macario Pascual, recently won BEST IN SHOW in one of two national plein air events on the mainland- The 2013 Mendocino Open
Paint Out and 2013 Sonoma Plein Air. He won the award at the Mendocino Open Paint Out that was held in Northern California September 9 - 14.
The award was worth $3000 in prizes and cash for his winning painting, an oil entitled, "In the Mood". His selection distinguished himself among the 78
artists competing from around the country in MOPO. Among those participating at this venue included several highly regarded artists like
Clark Mitchell, Michael Gibbons, Dennis Zimenski, Camille Perzewodek, and Juan Pena.
The following week at the Sonoma Plein Air, Pascual garnered a few votes for his painting, "Sonoma Valley Blues" for ARTISTS CHOICE, the top
prize at this nationally juried event. The winning piece was won by Sergio Lopez, a talented young artist from Santa Rosa, who earlier also competed
at the MOPO with Pascual. SPA is considered one of the toughest events to be selected for in the country and is limited to 35 artists. This was Pascual's first
entry into both the MOPO and SPA competition.
Pascual says, " The experience from this trip was everything I was hoping for. All of my goals were realized.
I painted California and it's famed coastline along Highway One, where some of the best early California works in Impressionism and Tonalism were created.
Painting conditions in Mendocino and Sonoma were of contrasts in light and color. In Mendocino, there were more greys and soft light
whereas, Sonoma was filled with HiDef like clarity of light and colors. It provided painting opportunities in all kinds of weather and time from fog, rain, cloudy,
hazy days to sunrises, sunsets and moonlit evenings. I got to meet and paint with some of this country's upcoming and established painters.
In all, I did 20 plus paintings. Winning Best In Show was a thrill- I just wanted to have fun and do my best."
Pascual's work ethic and dedication to his art continues to payoff with positive results. Earlier in the year, Pascual works have been accepted in two national
juried shows with exhibitions in Colorado and Michigan. This week, the artist's new paintings of California will be featured in a special showing at the
Village Galleries in Lahaina, October 11-31. The gallery is also arranging a "Meet The Artist", an open public session where Pascual will talk story about his
experiences painting in California. Call for details... 808-661-4402
Click here to request photos of available paintings by Macario Pascual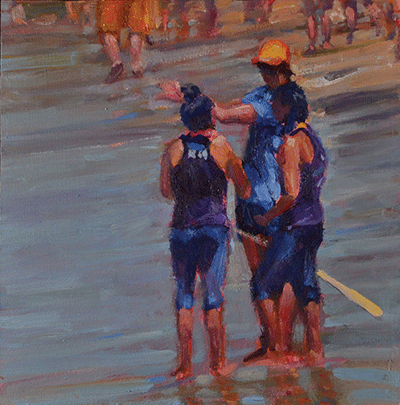 Above: "Would've, Could've, Should've", Oil, 8" x 8"